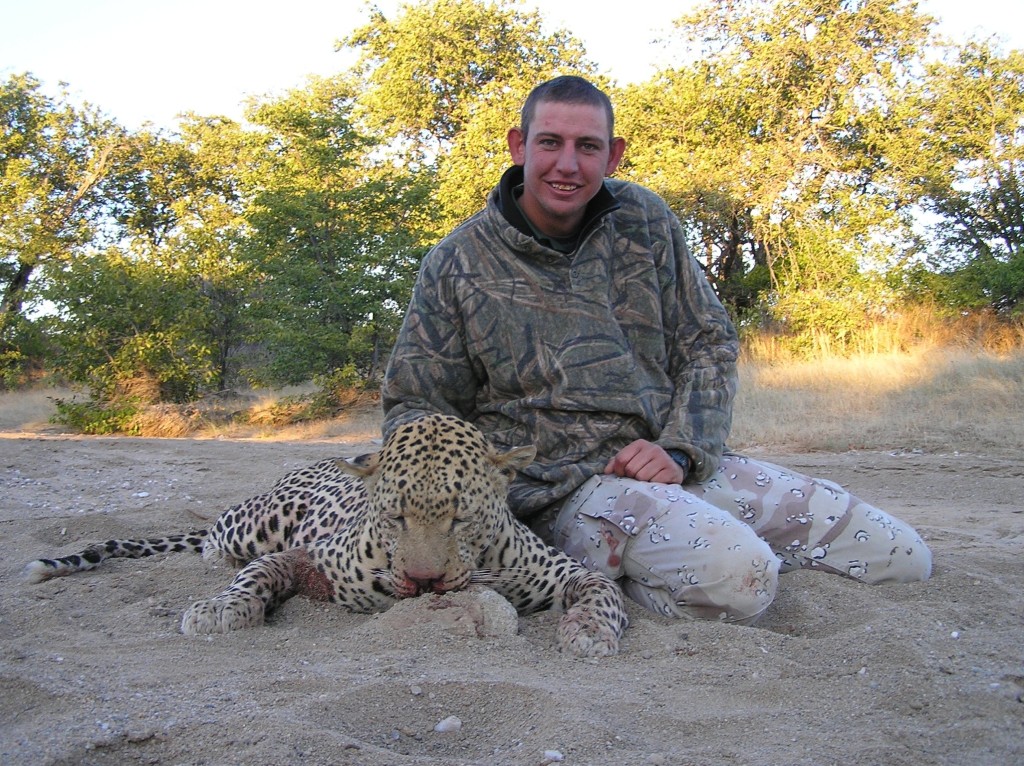 Leopard are my favorite animal to hunt. In Namibia, leopard conservation has been very successful. There are strict quotas on hunting leopards for export, and tags are limited. I never book your hunt until I have a confirmed tag for you. If I have a tag available, I will be glad to talk with you about the details of a leopard hunt.
Click on any photo to see it on a separate page, then click that image for the largest view.
Leopard hunting safaris, the way it should be
When I lead a leopard safari, leopard is my priority for you for the entire hunt.
We start by checking baits first thing in the morning, so there is time to build a blind if needed. If there's no hit, you can hunt other animals, relax or shoot more bait. The last two and a half hours of daylight we sit in the best blind.
I know the cats in my areas. I learn their tracks and their territories. I know which areas need ground baits, which areas need hanging baits. Some cats tend to feed lower on the ground, some feed in trees because of other ground predators.
Pre-baiting helps for 2 to 3 days before you land in Namibia. You can't keep big males on bait too long, so I don't normally pre-bait longer.
Leopard hunting details
Leopard Daily rates, per hunting day: 
1 Hunter, 1 Professional Hunter: $550
Pre-bait day: $180
Hunting daily rates include the following services:
Professional hunter
Hunting car
Skinners and trackers
Accommodations, meals, soft drinks
Alcoholic beverages in moderation
Hunting daily rates do not include:
Accommodations before or after the hunt
Insurance
Taxidermy cost on trophies
Baits, Permits, Deposits
Bait for hunts, price per bait:
Large animal such as Oryx: $250
Warthog or springbuck: $90
Other species: $150
Permits and tags: 
Leopard trophy fee $5000
Namibian hunting permit: $60 per hunter
Concession fee: $250
Leopard tag: $750
Deposits:
Deposit 50% of hunting days to book your hunt
All rates are in US dollars, VAT included.